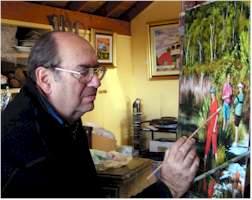 Stephen Kaldor was born in Budapest, Hungary in 1938 and arrived in Australia in 1957. Between 1957 and 1961 he studied medicine at the University of Sydney. As an undergraduate he drew cartoons for Honi Soit and faculty year books.
In 1961 he married Lauretta, his wife of 54 years and they had four children and quite a few grandchildren.
In 1962 he started to practice medicine as a family doctor in the South-Eastern Suburbs of Sydney and continued to draw cartoons and comic strips for the AMA gazette.
Stephen's formal art training was at the National Art School (East Sydney Tech.) from 1972 till 1976, as an evening student under Alex Tromph, Cameron Sparks, Harold Abbott and John Santry. He also attended classes at the Waverley-Woollahra Art Centre but he maintains that his real art education began after he finished with structured art classes and started to experiment and exhibit his work.
Apart from painting, Stephen has addressed various art groups and lectured on techniques and methods of art and conducted several studio-workshops on life and portrait drawing/painting. He has also given various seminars to art students, eg. "The Figurative Experience", a week-long residential workshop with Australian Painting Holidays at Millthorpe.
For the past 25 years Stephen has been teaching evening classes at the Eastern Suburbs Community College (formerly Eastern Suburbs Evening College) in painting and drawing and in his Kensington studio. An interesting  teaching engagement was as Arts Lecturer for the Cruise-ship Achille Lauro (before it sunk).
Stephen retired from medicine in 1991 to concentrate on his painting and teaching.
Solo Exhibitions and Major Exhibitions
1979-80 Studio exhibitions.
1983 People and Places. James Harvey Gallery. Newtown.
1986 The Artist and the Commandments. & other works. Wagner Gallery.
1989 Four Artists (Margaret Ackland,
Stephen Kaldor, Matthew Perceval, David Preston) Wagner Gallery.
1991 Still life and Haiku. Woolloomooloo
Gallery, Sydney.
1993 The Great 20th Century Picture Show.
Woolloomooloo Gallery, Sydney
1995 The Great 20th Century Picture Show.
(Stanthorpe Gallery Qld.) Travelling Exhibition.
1996 The Great Twentieth Century Picture Show.
Travelling exhibition: (July-August: New England Regional Gallery. (Armidale NSW.) September: Tweed River Regional Gallery (Murwillumbah NSW.)
Since 2000 annual studio exhibitions for invited collectors and students.
Group exhibitions
1971-74 Municipal and commercial art shows.
1975, 76 Archibald Prize.
1976-95 Blake Prize (Nine times)
1984,85 Sulman Prize.
1982,83 City of Sydney Heritage Prize.
1985 86 Mahlab (Law) Art Prize.
1989-94 Alice Prize (Invitational, Alice Springs. NT.)
1993 Faces in the Crowd.(Travelling show)
(Portraits in the Wrobel Collection)
1993 Mixed drawing exhibition.
Portraits in the Wrobel Collection)
1996 Doctors with brushes.(Marlene Antico Gallery ,Sydney) 1997,98,2000 ,2001-2015 Studio exhibitions
Awards
1976 Royal Easter Show- Landscape.
1977 Royal Easter Show- Portrait.
1977,79 Toohey's Paint a Pub competition.
1978 Campbelltown Art Prize (Portrait)
1980 Randwick Art Prize (Highly commended)
1987 Blake Prize (Special commendation by the Judges.)
1987,88,89 Selected for the Travelling Blake Prize.
1988,94 Finalist in the Doug Moran National Portrait Prize;
1992 Major work acquired in the Stanthorpe Heritage Award.
Represented in:
Max Germaine: Artists and Galleries of Australia
Allan McCulloch: Encyclopaedia of Australian Art
Who's Who of Australian Visual Artists
In the collections of:
Wollongong City Gallery.
Bathurst Regional Gallery.
Cairns Regional Gallery.
Gallery of Religious Art. (Phillip Henshaw Collection).
Stanthorpe Regional Gallery (Acquired 1992, S. Heritage Award.)
Tweed River Regional Art Gallery.
New England Regional Art Museum.
The Australian Broadcasting Corporation
The Wrobel Collection.
Moriah College
The University of New South Wales
The University of Sydney
Private and Corporate Collections in Australia and overseas.
(Most notable, the Curia in Vatican City)